Master of Malt Review
By Hiro Noda
Too much of anything is bad, but too much of good whisky is barely enough. I love finishing my week with a glass of Japanese whisky (Nikka from the barrel or Hibiki whisky) and this post is all about where you can find the best Scotch Whisky from.
If you love drinking fine whisky and high-quality spirits from around the world, then let me introduce you to "Master of Malt". As their name suggests, Master of Malt is whisky gurus who offers world's finest whisky and vast rage of sprits from all around the world. Their list of old and rare whisky is particularly impressive. In this review, we are going to cover everything you need to know about Master of Malt, so that you can begin your true whisky drinking experience.
Where to find the best Scotch Whisky
Pros & Cons
Bottles from Master of Malt
Bestmeals Discounts & Promotions
Where to find the best Scotch Whisky – Master of Malt
Firstly, Master of Malt have painstakingly compiled their vast catalogue of single malt Scotch whiskies, fine spirits and all manner of other drinks and cocktail ingredients over three decades to provide one of the most expansive ranges you could hope to find anywhere in the world. There are number of ways you can buy whisky from Master of Malt:
Buy individual bottle/s (big labels, old and rare including rum, gin and many other spirits)
Buy Tasting Sets
Buy & Send as Gifts (Personalised bottles, vouchers, samples)
Sell Your Whiskies and Casks (yes, they buy bottles if you've got some good collections)
Next, we will cover each of these through our reviews on pros and cons.
Master of Malt Review – Pros
Expansive ranges from around the world: Above all, what makes Master of Malt stand out is their fine selection of spirits from all around the world. You can buy whisky, rum, gin, old & rare and cocktails from around the world. Their whisky rage covers Australia, America, Canada, Ireland, India, Japan, Netherland, New Zealand, Scotland, South Africa, Sweden and Wales! Now, that's impressive. You can browse whisky from each country and sort by popularity and read reviews to discover new whisky.
Wonder what it tastes like? Buy a sample or tasting kits: My favourite part of buying whisky from Master of Malt is that you can buy sample sizes! This is a great idea as buying a bottle of whisky or any fine spirit is not cheap. As you browse for your bottle, you will see a sign that says "Try a Sample" which you can buy 3cl sample size. Alternatively, you can browse for under samples direct or buy curated tasting kits to adventure and find your favourite whisky.
You can sell your whisky: Interestingly, Master of Malt also buys whisky and casks from collectors. If you have some special whisky that's sitting in your home, you can simply submit the photo and details through here to get it evaluated. Master of Malt will offer you a price with no obligation for you to sell if you change your mind!
Personalise whisky as gift: There's nothing more awesome than receiving a personalised whisky as a gift! Select your bottle of whiskey (up to 40 years) and then personalise it by adding the message of your choice to the label. At the checkout you can choose from great extras such as a presentation box, gift wrap, a gift card or even a whisky tasting glass!
Master of Malt Review – Cons
Delivery Fees: Delivery charges vary depending on the delivery destination. When I ordered my Hibiki Japanese Harmony Whisky ($AU 98.51), shipping fee was AU$39.36, making it total of AU$137.87. If I compare the price to Dan Murphy (AU$149.99), you still actual make saving of AU$12.12. The tip is to put your order in basket, find out the total cost and compare it with major retailers on Google to compare prices.
No gift wrapping: When you order your personalised whisky, remember that they do no offer gift wrapping as they prioritise your bottles are packed safely for delivery. They pack your bottle in super-secure air packs with meticulously-shaped boxes, which means beautiful bottles on arrival – but it also means they can't gift wrap them.
Sample of Bottles From Master of Malt
Scotch Whisky – Lagavulin 16 Year Old
Price: AU$74.30
Taste: For example, this little bad boy from southern Islay is very thick and rich. A massive mouthful of malt and Sherry with good fruity sweetness, but also a wonderful sweetness. Big, powerful peat and oak. The 16 year old has truly become a benchmark Islay dram from the Lagavulin distillery.
For AU$9.03, you can also purchase 3cl sample to see if you like this rich and dry whisky meets your palate.
Japanese Whisky – Nikka Whisky From The Barrel
Price: AU$56.16
Taste: I Just can't miss introducing you to excellent Japanese whisky. This fine balanced whisky from Japan is Full-bodied and punchy. There is plenty of winter spice and toffee, a little caramel and vanilla and a good mouthful of fruit. Bottled at 51.4% ABV. The blend combines both single malt and grain whiskies from the Miyagikyo and Yoichi distilleries, which are then married in a huge variety of casks, including bourbon barrels, sherry butts and refill hogsheads. Good price too huh?
Japanese Whisky Tasting Set (15cl, 44.7%)
Price: AU$50.02
Set: Now that you are super keen on tasting Japanese whisky after reading my review, I'm gonna tempt you with this Japanese whisky tasting set! The set comes with five 3cl samples which includes:
Bestmeals Discounts and Promotions (Meal Box Services)
Lastly, if you love drinking fine spirits, then these meal boxes will be your perfect companion! Check these exclusive discounts on offer. Read our meal service reviews to find your perfect service!
Summary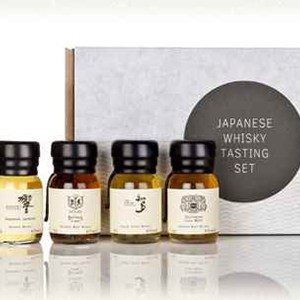 Author Rating





Brand Name
Product Name
Japanese Whisky Tasting Set