If you are thinking about buying Youfoodz, you have come to the right place. By now, you've probably heard of Youfoodz where you can enjoy eating clean, nourishing and delicious meals. Ads on TV and social media always looks impressive, but is it as good as it looks? We are going to cover everything you need to know about Youfoodz in this post. We are going to cover:
Pros of Youfoodz
Cons of Youfoodz
How Youfoodz Works
Youfoodz Delivery Area
My Youfoodz Buying Experience
Meal Review
Youfoodz Review – Pros
1. Affordable healthy quality meal at home
Youfoodz delivers food with real taste and freshness! The presentation at home probably won't be as good as it looks on the ads, but the flavour is definitely there. I ordered six packs @ $9.95 each. My favourite was Macadamia Crusted Fish & Rice and it was delicious!
2. Fresh and portion controlled for health with dietary requirements
Youfoodz offers wide range of meal types such as Clean (under 350 calories), Balanced (between 350-450 calories) and Relaxed (up to 500 calories). Some people have expressed they would like large portion for dinner but remember that they are portion controlled for your health. Another thing I like about YouFoodz is that they offer dietary requirements such as gluten-free, vegetarian, no nuts, eggs or diary.
3. Perfect for the time poor
Prepared meal services are designed for those who have no time to do grocery shopping or cook. Young professionals and shift workers particularly love using Youfoodz, because they no longer had to think about what to cook or could easily take it to work for lunch. Fresh ingredients and recipes are all delivered to you with no waste.
Youfoodz Review – Cons
1. Serving size feels a little small
While I like the idea of portion control, I do find the serving size of Youfoodz quite small for an active or average adult. My female friend also finds the same issue with portion size. To give you an idea, each meal serve is around 250 – 300g. If you are swapping your usual lunch to Youfoodz, you will definitely still feel hungry after the meal.
2. Cardboard wastes
This is the same issue for all other meal delivery services, but one of issues with buying weekly meals is that you will accumulate cardboard boxes every week from the delivery. Unless these service providers move to more sustainable delivery model with reusable delivery boxes, consumers will have to either reuse the box or throw it away.
How Youfoodz works
Youfoodz Delivery Area & Stockist
Youfoodz deliver to to over 4,000+ locations Australia-wide. Please click here and enter your post code to see if they deliver to your area.
You can also get Youfoodz from your nearest Stockist, including from major supermarkets including COLES, WOOLWORTH and IGA.
Youfoodz Review – My Buying Experience
I ordered one of Specials DINNER FAVES PACK – 6 FOR $49 (please note this offer may no longer be available). This meal pack provided most variety meals and very good value for money. The meals arrived in cardboard box with insulated covers and ice packs inside.
The only problem with my delivery was that it arrived one day earlier than expected (I ordered to arrive on Sunday, but it was already delivered on Saturday night). Here's my six meals!
Let's plate and compare real Youfoodz meal
To compare what you see on ads and what you actually get, we've plated Youfoodz meal for comparison. Below is Youfoodz's original ad on Macadamia Crusted Fish & Rice.
Nutrition per serving
Calories 477, Fat 21.8 g, Protein 32.5 g, Carbohydrate 35.7 g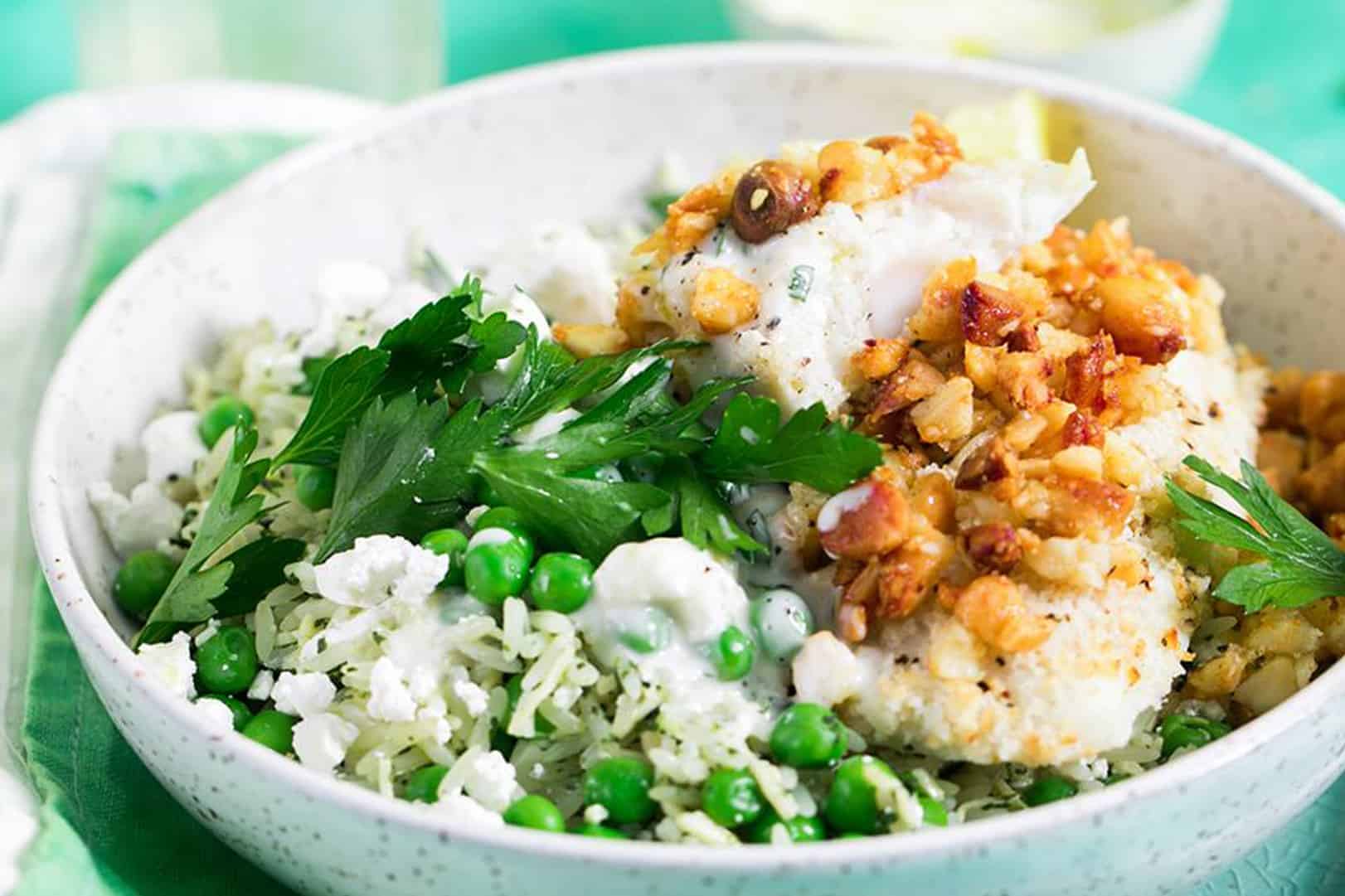 Our Verdict
The one we plated didn't look good as the ads (e.g. the colour of the macadamia nut was certainly different), but surprisingly it was delicious. So, don't be deceived by their look. I have eaten quite a number of prepared meals and they mostly don't look good when plated as what you see on the ads (and you certainly can't beat home cooking and meal boxes). Overall, if you consider the convince of not having have to cook, then Youfoodz is definitely worth giving a try!
Let's order Youfoodz
Now that you are willing to give Youfoodz a go, you have two options.
If you want to just try out a meal, then you should buy Youfoodz meal from a nearest stockist. To see where you can buy locally, click here.
Alternatively, you may wish to sort out the whole week with Youfoodz meal plan. Visit their site from here or find out if they deliver to your area.
Best Meals review
Reviewer
Review Date
Reviewed Item
Rating





Product Name