Value for Money – Australian Wine Subscription Plans
By Hiro Noda
We, Australians love to drink a good wine and it's a perfect gift for your family and friends. Australia is home to 65 unique wine regions, each with its own diverse, natural landscape and climate. That's what makes Australian wine gift so special – it represents your region, taste and style. From full bodied Shiraz to elegant Cabernet Sauvignon, zesty Chardonnay and vibrant Pinot Grigio, the choice is yours.
If you are thinking about gifting a high quality wine, then you've found a perfect place. Introducing Wine Selectors, who curates Cellar Door Releases including pre-selected or customised collections delivered to your door! In this review, we are going to cover everything you need to know including:
How Wine Plan Works
Gifting
Pros & Cons
Costs
Wine Plans Review
Promotions
Wine Selectors – How it Works
With Wine Selectors, there are three ways to shop for your wines. Here's quick explanation of each:
Wine Subscriptions: Regular delivery of wide range of curated wine (dozen) to your door.
Buy Mixed Case (Bulk purchase): Value packed & themed collection of wine at valued price (e.g. White Wine Selections)
Buy Bottles: Browse and find your favourite individual wine from 500+ Australian wineries
In this post, we are going to cover Wine Plans, as it gives you most value and goes perfectly with our Meal Box Services.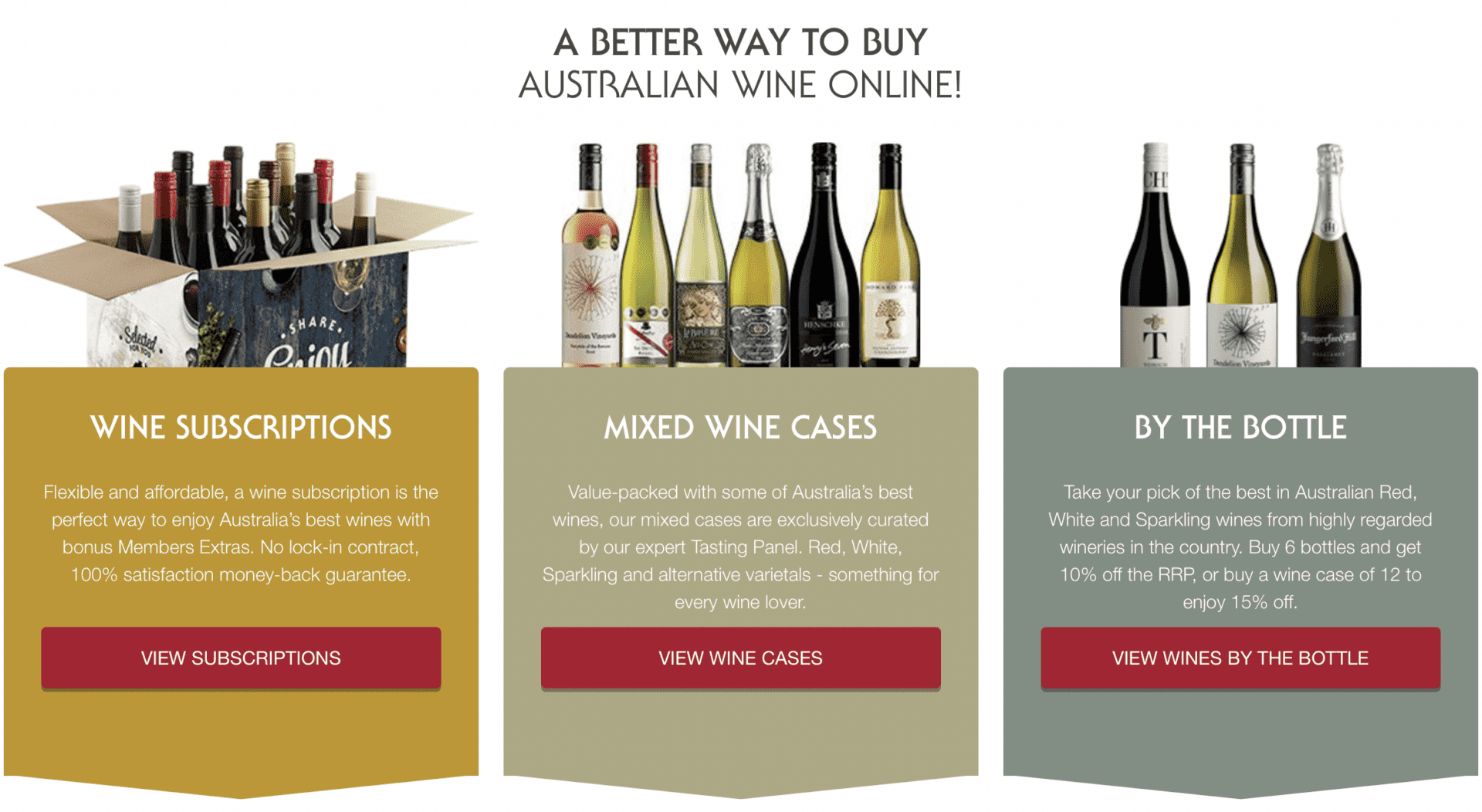 Wine Selectors – Quick Summary
If you love drinking wine, my recommendations is that you get yourself Wine Subscriptions and gift the wine to your friends from your plan whenever you need to. This is recommended if you:
Wine lover and drink on weekly basis (you will receive 6 or 12 wines every 4 weeks)
Have guests or likes to take nice wine to restaurants (BYO)
Save money by getting 20% off RRP
Don't have time to shop for wine – get it delivered to your door
Alternatively, you can also buy selected high quality Australian wine gift from Wine Selectors' Online Store.
Wine Selectors – Online Wine Store
Wine Selectors lets you select from your favourite red and white varieties or make a new discovery. What makes their online store special is that some wines are exclusively only sold through Wine Selectors. Choose from a range of Sparkling styles full of elegance and fun or experience the diversity of exciting wines put together by our Panel in the mixed case collection. Or if it's a gift you're after, there's plenty to uncover from twin packs and glassware to fridges and gift cards. Simply click on the image below to find your wine!
My tip is to view their "Deals and Specials" page and get exclusively discounted wines. I often check out their Selector Magazine Offers to see new and recommended releases.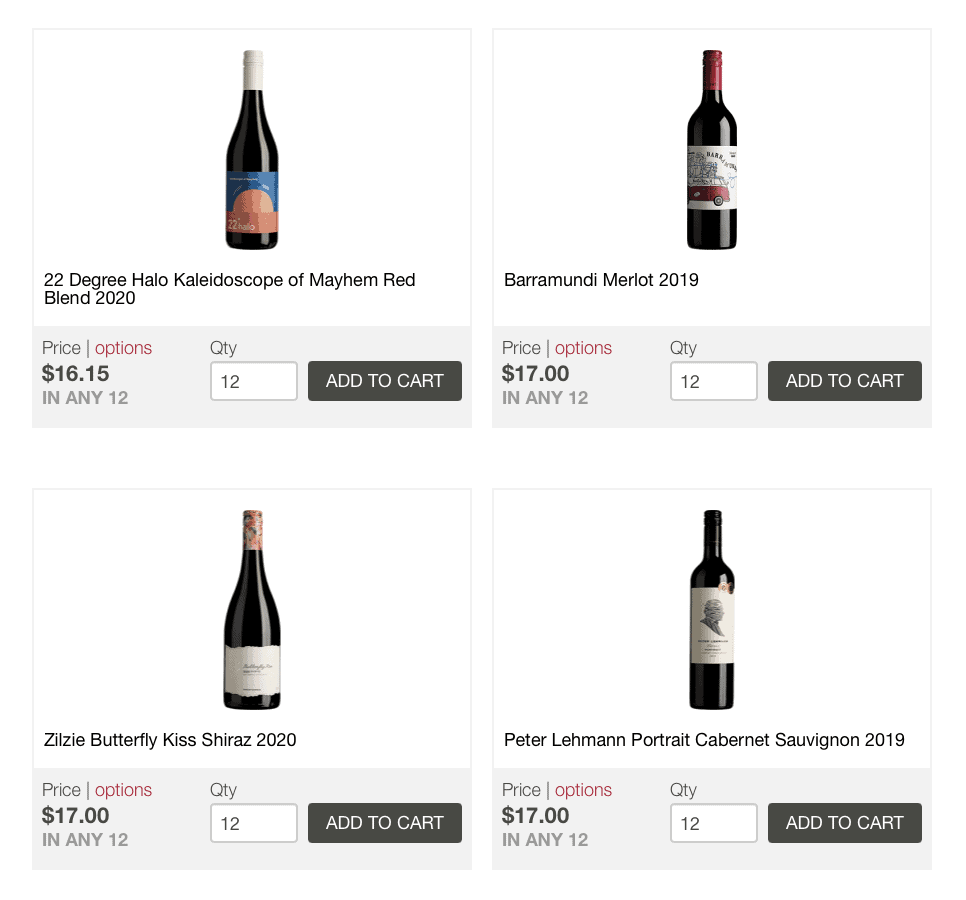 Online Wine – Wine Selectors Subscription Review
Wine Selector's Wine Plan is fantastic as they curate and deliver wide range of Cellar Door Releases including pre-selected or customised collections on regular basis (every 4, 6, 8, 10 or 12 weeks depending on your Wine Plan).
Wine Selectors – Pros
Value for Money: You get to receive 6 or 12 pack of curated wine at discounted price of 20% off RRP per bottle! On average you save around $120 per Wine Plan. Now that's a bargain for wine lovers!
Great wine experience with benefits: With each release comes a membership that gives you additional benefits including detailed tasting notes, the award-winning Selector magazine, priority access to events and access to exclusive offers and discounts.
Comes with tasting notes: One way to enjoy and fully appreciate a good wine is with tasting note. You can impress your guests or your date with good knowledge of wine!
Flexibility & Delivery: Cellar Door Releases are completely flexible. Depending on your selected Wine Plan, you can receive your box every 4, 6, 8, 10 or 12 weeks. You can change delivery to your home, office or even a holiday address. This flexibility is perfect for wine gifting!
Easy to Cancel: There is no contract or commitments. There is no financial catch if you decide to skip or stop your deliveries. To cease, make a change or customise your delivery, give our Customer Service Team a call on 1300 303 307, 8.30am–6pm, Monday to Friday.
Wine Selectors – Cons
Separate charge for freight: Depending on where you live, the fright cost varies. To check how much the freight may cost, please use Freight Calculator. However, through our exclusive offer, if you spend $299 or more, you can receive FREE freight! So when you are deciding which Wine Plan to get, keep this offer in mind!
Some freight cost examples:
Lilyfield NSW 2040 (Sydney): $10.99 – Standard Delivery
Melba ACT 2615 (Canberra): $11.99 – Standard Delivery
Southport QLD 4215 (Gold Coast): $11.99 – Standard Delivery
Melbourne VIC 3000: $11.99 – Standard Delivery
Online Wine – Wine Selectors Cost Comparison
Below is summary and comparison of available Wine Plans.
Value for Money: Entertainer's Releases offers the best value for money (12 pack), but you can only receive it every 4 weeks.
Most Flexible: Customised Releases (6 or 12 pack), with delivery option of 2, 4, 6, 8, 10 or 12 weeks.
Wine Lover: Offers most varieties with new and rare discoveries (12 pack), with delivery option of 4, 6, 8, 10 or 12 weeks.
Online Wine – Our Recommendation
Regional Release Wine Plan:Options of 4, 6, 8, 10, or 12 weeks
Wine Selectors' Regional Releases take you on a tasting journey throughout Australia's 12 major, premier wine producing regions. These selections are a celebration of the diverse characters and styles achieved in Australian wines today. Whether it's Coonawarra, Clare Valley, Barossa Valley, Hunter Valley, Margaret River or the Mornington Peninsula, you'll discover some of the leading wines, varieties and styles that hail from each region's major producers and boutique wineries.
In addition to your wine you will also receive extensive tasting notes to learn more about the wines, wineries and mouth-watering food matches – as well as a host of exciting Member benefits! You'll receive a mixed dozen in line with your chosen schedule.
Online Wine – Wine Selectors Samples
What kind of wines are available? Below is some of my favourite wine I've bought from Wine Selectors.
Vegan Friendly Wine: Mixed Red & White
Exclusive Promotions – Wine Gift
Please use following promotions to order your Wine Selectors. Simply click on the link order Wine Plan!
> Get $50 off your next purchase when you refer a friend – Receive a $50 gift card by referring Wine Selectors to a friend and redeem on your next purchase. The more friends you tell, the more gift cards you could receive!
> Spend $299 or more & receive FREE freight – Spend $299 or more with Wine Selectors and receive FREE freight!
> Get FREE twin pack of wine – Subscribe to Selector for 1 year and receive a free twin pack of wine, or subscribe for 3 years and receive a free 6-pack of wine!
Other Exclusive Discounts and Promotions for Meal Box Services
If you love drinking wine, then these meal boxes will be your perfect companion! Check these exclusive discounts on offer. Check out our meal service reviews to find your perfect service!
Best Meals review
Reviewer
Review Date
Reviewed Item
Wine Selectors - Your Online Wine Shop
Rating